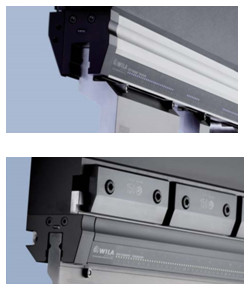 Wila  presents top and bottom clamping systems as automatic or manuel options  and compatible with all hydrolic or servo press brake machines. Wila works with professional press brake users more than 85 years.
When you order a new press brake machine, you can request it with Wila clamps (fixed on the upper and lower beams of the machine) or if you have an existing machine, you can order compatible Wila clamps to fix them on the machine's existing clamping system (retrofit).
With hydrolic New Standard clamping system, when you just press one button, all the tools will be fixed in exactly the same line and press brake machine will be ready for any bending operation. When it is need to change the tools for another bending operation, you can do this in seconds and that will improve your productivity. If the speed, bending quality and precision are important for you, you can request detailed information about "New Standard" products from us.
New Standard Crowning System

Crowning systems are one of the most important thing for hydrolic press brake machines. The crowning system's quality directly effects bending quaility of the production.Wila Crowning System options are:
New Standard Premium Crowning,
New Standard Pro Crowning,
Retrofit Systems.
Please call us about detailed information of crowning systems.