Tool Grinding Machine
Ares MTG-160 Manual Tool Grinding Machine, has developed to give best performance of punch and dies which you used in the punch machines. By virtue of grinding with Ares MTG-160, we guarantee an increase in the service life of the tools, an improvement in the cutting quality of the punch machine and, as a result, an increase in the quality of your production.
You can easily grind common tool types such as Thick Turret, Murata Wiedemann (112-114-Marathon-Vulcan), Trumpf Type, Thin Turret of each brand by fixing on the magnetic table or on the chuck. Through its 0.005mm height adjustment accuracy, powerful coolant spraying device and easy operation, you can achieve smooth, rough and sharp surfaces in a short time..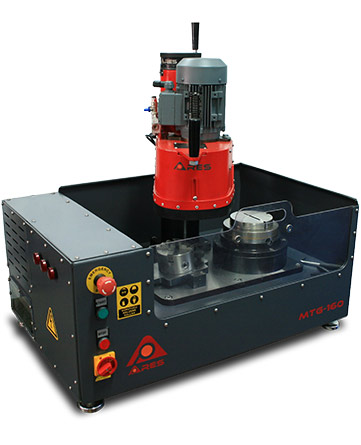 Dimensions
W: 860mm
L: 550mm
H: 990mm
Weight
200 kg
Electricity Usage
380V/50Hz
Power
750 W
Engine RPM
2800 rpm/min
Wheel Diameter
0160 mm
Magnetic Table Diameter
0160 mm
Maximum Chuck Diameter
0100 mm
Maximum Punch Height
210 mm
Maximum Die Height (For Magnetic Table)
100 mm
Angled Grinding Range
0° – 7°
Minimum Chip Amount
0,005 mm
Water Pressure
6 Bar
Use Your Punch Press Tools for Much More Longer!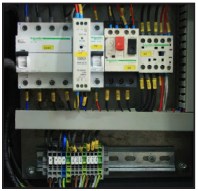 It is more practical to grind the dies on the magnetic table.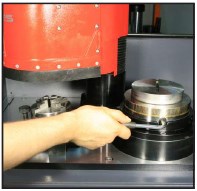 The tool is fixed on the magnetic table, with the help of a wrench.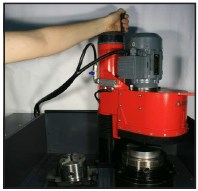 Chip removal is adjusted according to the tool diameter with the height adjustment at the top.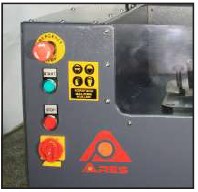 The side panel has buttons for operating the machine and for emergency situations.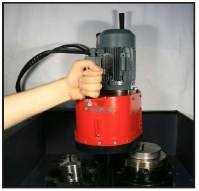 Grinding is completed by moving the head on the tool with the left and right movement.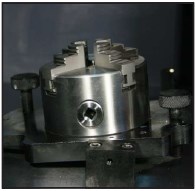 Punchs are ground by connected on the left side chuck as straight or angled.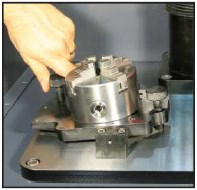 Angle adjustment btw. 0° – 7° is made with the help of the gears next to it.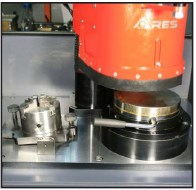 Maintenance and cleaning of the machine are done easily. Magnetic filter perfectly cleans the coolant.
CBN Wheel for Excellent Results on Different Metal Surfaces
The MTG-160 grinder can be used not only for punch tools, but also on all metal planar surfaces where you need smooth surfaces. To do this, it is enough to fix the planar molded parts and apparatus –up to 160mm in diameter- on the machine tables. The die/punch shims which are loaded upon long usage may lose the surface flatness as a result of adhesion and/or deformation of small metal parts. In this situation, you can fix the die/punch shim to magnetic table and provide the smooth surface by removing chips thinly. You can see the limits of the parts, which can be connected to table and chuck, in the table on the last page.